SET OF SERVICES ON PROTECTION OF TAXPAYER RIGHTS IN THE COURSE OF VISITING INSPECTIONS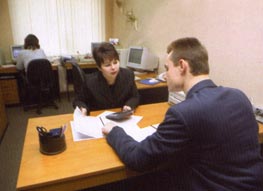 Provision of equipped working sites for work of tax inspectors and employees of the taxpayer for the purposes of visiting tax audit.



Preliminary express analysis of initial accounting documents and statements, preparation of documents for audit.



Operative consulting for lawyers, accountants, auditors on the current matters of the visiting tax audit.



Representation of taxpayer interests in the course of audit.



Legal economic analysis of results of visiting inspection and prospects of judicial defence of taxpayer rights in the case of unfavourable results.
The current laws prescribe the whole range of provisions protecting the taxpayer rights, and most problems in the relations with tax and other state controlling authorities are accounted for by the fact that not all the directors of small companies know the own rights and can use them. The specialists of our Business Centre will always help to such directors and to everybody, who wishes to use the services of highly qualified lawyers, accountants, and auditors.
For some enterprises, the news of tax inspection is related not only to the problems in organisation of audit: where to place inspectors, how visiting inspectors would will affect the operative activities of enterprise. The alternative of bringing all the documents to the tax inspection is fearful with the lack of information.